[EVOMSit] is fanatically obsessed with achieving ultimate perfection with our performance engine software. Our analytical tuning methods combined with methodical testing procedures, state of the art equipment and unmatched mechanical intelligence are fused together to create the ULTIMATE aftermarket performance software.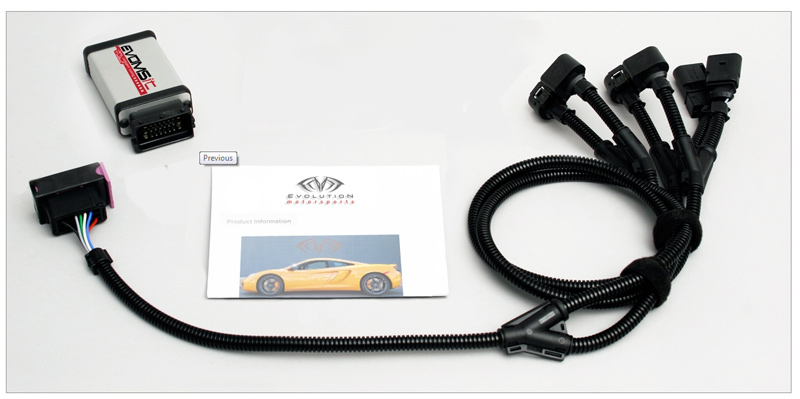 Features:
Evolution MotorSports Engine Performance System for the McLaren MP4-12C improves upon the already impressive stock engine horsepower and torque. The stock 3.8L twin turbo engine with the latest V.10.2 (616 HP) Factory Update is transformed to an impressive 659 HP and 552 lb. /ft. of TQ with our complete Stage1 Performance Computer Module. Stock Power as tested on our AWD Mustang 500SE dyno was 616 HP and 516 lb. /ft. of TQ. Our engine performance system enhances the turbochargers boost response time with our engine electronics recalibration and increases boost pressure by 0.17 – 0.20 bar (2.5 -2.94 PSI). Additional electronic mapping to the fuel injection system are also re-calibrated to compensate for the increased boost pressure and overall performance to deliver a very potent yet safe power enhancement for to this one of a kind supercar.
The electronic functions are carried out with our [EVOMSit] Intelligent Control Module (ICM) which integrates seamlessly into the OEM engine wiring harness with our plug and play electronics connectors
The EVOMSit ICM software is precisely calibrated to improve the turbocharger boost pressure while delivering the exact amount of fuel which safely increases the engines power and efficiency
The EVOMSit ICM is 100% reversible without leaving any traces it was ever installed
The EVOMSit ICM does not interfere with OEM diagnostics or dealer service
The EVOMSit ICM does not disable any of the OEM electronic engine safety features
Our complete Stage 1 and Stage 2 Performance systems have been extensively tested and performance verified during dyno simulation, real world road and race track driving conditions and are calibrated for both 91 and 93 octane fuels

The heart of the Evolution MotorSports engine performance System is the [EVOMSit] Intelligent Engine Control Module (ICM). The ICM integrates seamlessly to improve the power and torque of the twin turbocharged McLaren 3.8L engine. Fitting the ICM is simply made through a "plug and play" wire harness with OEM connection for a trouble-free installation. Our dual processor, 4-channel ICM is programmed to safely increase the turbocharger boost pressure by an additional 0.27 – 0.30 bar (3.96 -4.41 PSI). The fuel calibration is also controlled through the ICM which is programmed to electronically increase fuel pressure with the increase in boost pressure. The ICM boost and fuel parameters have been optimized for both 91 and 93 octane and have been extensively tested on both our AWD dyno as well as in real world street and race conditions. Our test MP4-12C has just returned from a 1000 mile street and race rally where the vehicle was pushed to its limits for over 800 of the 1000 mile event.
This product is currently available for sale by following this link.