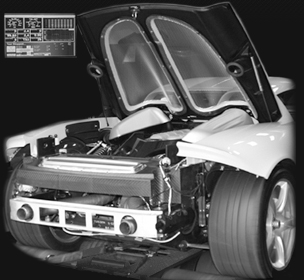 [EVOMSit] software combines our superior mechanical expertise with an unequivocal capacity to calibrate the most complex automotive computer electronics. When you experience an [EVOMSit] software upgrade for your vehicle, you will begin to realize our world of intelligent tuning, insanely tuned. [EVOMSit] software calibrations have been tested under the most grueling conditions during dyno simulation in our state-of-the-art AWD dyno cell as well as in real world driving on the street and on the race track. We further scrutinize and refine our software during our eDRIVE independent product validation program to produce unmatched results.
Our stringent testing assures pure, crisp and consistent power in all of the conditions you enjoy your vehicle. We spend 100% of our R&D efforts on the development and testing of performance software, period! The combination of our meticulous mechanical expertise, painstaking attention to details and our unequivocal capacity to calibrate the most complex automotive computers, clearly sets us apart in the world automotive software tuning. [EVOMSit] performance software represents the apex of technology where pure
adrenaline is fused with ULTIMATE PERFORMANCE.
"Particularly impressive is the [EVOMSit] software tuning. Partial-throttle response, often a weak spot with aftermarket tunes, is every bit as good as a factory GT3's. It's the final piece in that rarest of puzzles: an aftermarket engine that outshines its factory basis."
- Pete Stout, Excellence Magazine, April 2010 – "Hello 8800 RPMS" 997 GT3 RS 3.9L (Excellence Magazine Link)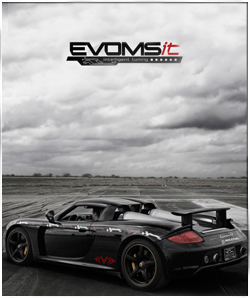 [EVOMSit] Brochure